All Products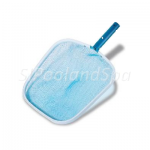 Heavy Duty Leaf Skimmer with aluminium handle and body (wrapped in plastic to protect pool surfaces.
Full One Year Manufacturer's Warranty
Poolmaster's Premier Heavy Duty Leaf Skimmer ensures a thorough clean every time. Features heavy-duty aluminum inner framing to withstand extra weight of heavy loads, season-after-season. Mar-proof PVC frame is added with extra-strength bracket and handle made from a blend of Polyamide and glass fiber. The deluxe terylene net and provides maximum wear.