All Products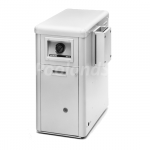 No pilot light equals no hassle! Hayward has developed an induced draft heater for above-ground pools and spas that combines state of the art technology with ease of operation and superior performance.
Gas Type……………..Price
Propane Gas………..$999.99
Natural Gas………….$999.99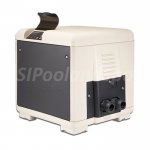 INTRODUCING THE HIGH-EFFICIENCY, HIGH-TECHNOLOGY HEATER FOR BODIES OF WATER UP TO 15,000 GALLONS
The remarkably affordable new MasterTemp 125 heater gives you the energy savings and advanced operating features that were only available from much larger heaters. With its revolutionary pre-mixed gas combustion technology, the MasterTemp 125 heater offers 82% thermal efficiency – the highest of any heater in its category. Its 1-1/2″ plumbing is ideal for smaller applications, including aboveground pools, spas and inground pools up to 15,000 gallons. Featuring the first ever rotating, digital display offered in its class, the MasterTemp 125 heater provides valuable information conveniently and at the touch of a button. Plus, its lightweight, compact design makes the MasterTemp 125 heater easier to install than any other heater in its class – reducing labor costs which saves you money.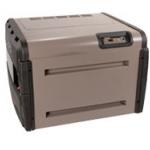 The Hayward Universal H-Series gas heater is the "universal" energy efficient remedy for any new or existing pool or spa. An industry leading hydraulic design reduces circulation pump run time to provide energy savings of up to 18% when compared to less efficient competitors. The energy efficiency of the Universal H-Series gas heater combines with environmentally friendly low NOx emissions, a standard cupro nickel heat exchanger and ultimate installation flexibility on new or existing equipment pads to responsibly heat a pool or spa today and for years to come.
The forced draft system in the Universal H-Series constantly moves air through the combustion chamber at a precise flow rate eliminating outside weather variables that can affect heating performance. Wind conditions are eliminated and there is no need to install a high-wind stack.