All Products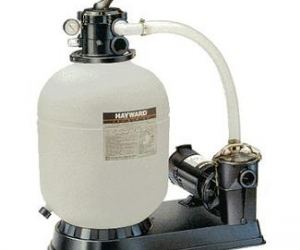 Hayward Sand S180T - Pro Series Filter System W/1.5-HP Powerflo Pump
The Pro Series filter features an integral side diffuser that evenly distributes unfiltered water over the sand media bed in a cascading, umbrella-like pattern. This allows the greatest filtration possible from every square inch of sand. The self-cleaning underdrain assembly, with its 360degree slotted laterals, provides a fast, balanced flow of clear water back to the pool while allowing for more thorough backwashing.
Best of all, the Pro's full-flow technology reduces your energy costs because the filter operates for shorter periods. Includes Six-position, Vari-Flo valve with level-action handle.
FEATURES:
S180T model requires 150 lbs of filter sand (Not Included) and comes with 1.5 HP Powerflo pump.
Pump and filter are performance-matched to provide maximum flow and energy efficiency.
Filter bases are molded of rugged ABS for long lasting, all weather performance.
7 Position PermaGlass XL Vari-flo valve provides maximum flow at low pressure drop - valve model SP0714T.
Systems are designed for quick assembly and precise alignment of components.
Filter System comes complete with filter tank, 1.5 HP Powerflo pump, filter base, (2)1.5"x6' length of hose, hose adapters, and hose clamps.