All Products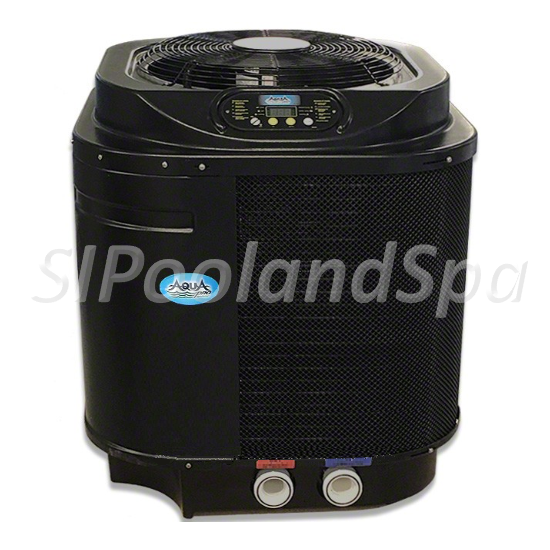 -Ideal for above ground and in-ground pools up to 24,000 gallons
-85,000BTU heating performance w/a 100% Pure commercial grade titanium heat exchanger
-Electronic self diagnostic codes, determining your issue for you
-Reduce your swimming pool heating costs as well as your pool's environmental impact.
-85% more efficient than gas heaters providing continuous heat and comfort (quieter than gas too)
-AHRI Certified for performance
-Compatible with all known remote systems
-Recommended breaker: 25 Amps
-Wired with 2 hots (L1 – L2 ground with bond)
-No GFCI or Neutral required unless by local code
-Voltage Required: 230/208 V
-WARRANTY: Labor= 1 year, Parts= 2 years, Compressor= 5 years, Titanium Tubing= lifetime
-Total outside dimensions of heater: Length: 31″, Width: 31″, Height: 34″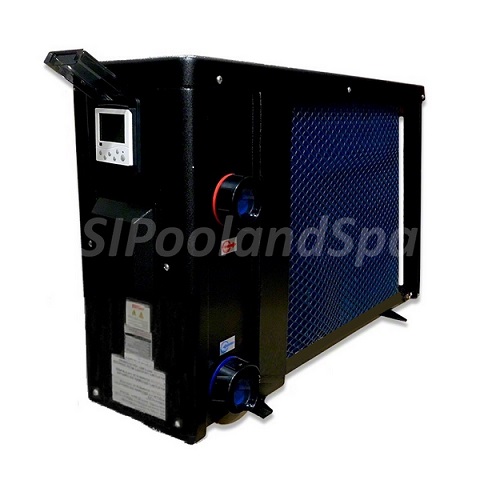 AquaPro ECO550 pool heat pump is power packed to provide FAST heat while producing savings of up to 85% vs. gas heaters. It can effectively heat pools up to 16,000 gallons. The superior airflow system (ideal for placing under decks) minimizes noise and helps provide maximum heat. The LED dsiplay also makes operating and servicing the unit quite easy. All AquaPro heat pumps feature an EXCLUSIVE Titanium heat exchanger design, acoustically designed quiet performance, and market leading efficiencies backed by AHRI Certification.
Voltage/Amperage —> 208-230v/10a
Recommended Circuit Breaker —> 20-30amp
Dimensions —> 41.25″ x 14.5″ x 27.75″ (LxWxH)
Weight —> 150 lbs.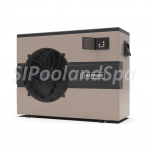 The HP50HA2 from Hayward has 50,000 BTUs of performance which can efficiently heat pools up to 13,000 gallons. With its Titanium Heat Exchanger and Hayward Quiet Technology, it heats up pool water for a fraction of the cost of gas. It also operates more quietly. An Electric Heat Pump takes the heat from the surrounding air and uses it to warm the water in your pool eliminating wasted energy. It is safe, reliable, and energy efficient. It also includes a cooling mode to help lower water temperature. Now you can swim longer into the evening hours, earlier in the spring and later in the fall.
Features:
-50,000 BTU Electric Heat Pump for pools up to 13,000 gallons
-High-efficiency titanium heat exchanger for unrivaled, uncompromising and trouble-free -performance, even under the harshest conditions
-Uses less energy than a natural gas or propane heater
-Extremely quiet operation
-Width X Depth – 41-1/4″ X 16″ Height – 25-1/2″
-1-year manufacturer's warranty (No Labor), Parts: 1-year warranty, Compressor: 5-year warranty, Titanium Tubing: 5-year warranty
-Requires 220 volt/20 amp circuit
-Maximum heating set point of 89°F