All Products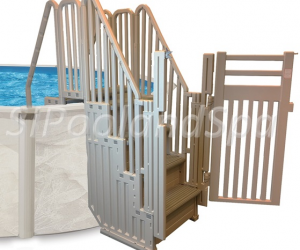 Confer Step 1 with Gated Entry System
Ideal for pools installed above ground (without a deck).
Consists of (2) Confer Sep1 Units, top platform, two side rails, pickets, and gate. The gate completely encloses the steps for security, and is self-enclosing and self-latching.
Adjustable for 48″ – 54″ pools.
All plastic construction will not affect water chemistry and will not corrode
Gate restricts access to the pool, self-closing and self-latching
Easy to assemble
Non-slip step surfaces are excellent for elderly, slightly handicapped, or heavy swimmers
Slotted sides prevent the growth of algae
Padlock Included
Weight guideline: 400lbs.
5 Year Manufacturer Warranty
Meets current and proposed ANSI/NSPI Standards