All Products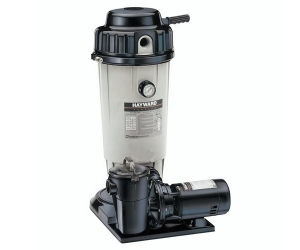 Hayward Perflex EC50 Filter System W/1.5-HP Pump
$929.99
Perflex Extended-Cycle D.E. filters provide crystal clear, sparkling water at an economical price. Proven over many years, Perflex has set the standard in swimming pool filtration by incorporating the patented Flex-Tube ™ design in combination with D.E. filter powder–the most efficient dirt remover known for pool filtration.
The result is superior water clarity, extended filter cleaning cycles--and no backwashing required.
FEATURES:
Captures all dirt, removing microscopic dust and pollen as small as one micron.
Traps algae.
Efficient one-pass cleaning power.
No Backwashing , "bumping" activates Flex Tubes repositioning dirt and D.E. within the filter.
With a design flow rate of 50 gallons per minute, this filter will handle even the largest above ground pools.
System comes complete with filter, 1.5 HP PowerFlo pump, filter base, union connection, (2)1.5"x6' length of hose, hose adapters, hose clamps, and backwash valve.