All Products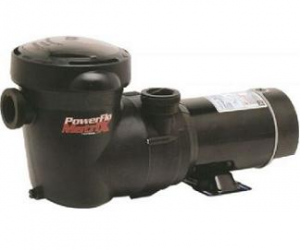 Hayward Matrix Pump
The Power-Flo Matrix has been engineered as a uniquely superior above-ground pool pump. With a single push of a button, this truly versatile pump changes from a veritical to a horizontal discharge and back again.
Its large profile and integrated styling makes the Power-Flo Matrix a swimming pool pump like no other.
FEATURES:
On/Off Switch.
The above-ground industry's largest strainer basket for large debris collection with minimal maintenance.
Horizontal.vertical discharge orientation pipe connection.
Quick disconnect intake and discharge pipe connection.
C-Clip connector allows for easy disengagement of strainer housing in a matter of seconds for hassle-free maintenance.
Heavy-duty, high performance motor with integrated automatic thermal overload protector for years of operation.
High quality Noryl impeller with wide openings to prevent clogging by leaves and debris.
Durable, corrosion-proof housing for years of dependable service and all-weather performance.
Heat-resistant, double-sized seal for long-lasting efficiency.
Energy-efficient, protected rear mounted switch.
Integral drain plug for easy winterization of pump.
This pump comes with a 6' cord with standard plug.