All Products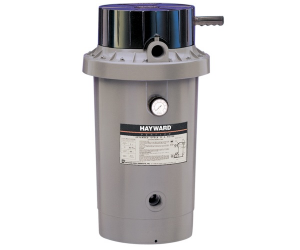 Hayward EC65 Earth Filter (Tank Only)
$979.99
Its patented Flex-Tube design gives longer cycles between cleaning because the same D.E. filter powder is used over and over. Plus, Perflex cleans without backwashing, saving hundreds of gallons of treated pool water.
FEATURES:
Exclusive bump handle activates the mechanism causing the Flex-Tubes to instantly and uniformly clean themselves of dirt and filter powder.
Self-venting design automatically expels any air that may be present in the system.
Proven, patented Flex-Tube filter elements efficiently reuse the filter powder and dirt mixture forming a fresh filtering surface.
Combination pressure gauge and threaded inspection/service port is easy to read and remove when filter needs cleaning.
Heavy-duty filter tank injection-molded of high-strength for dependable, corrosion-free performance.
Integral check valve prevents system backflow whenever pump is off.
Filter tank comes completely assembled.