All Products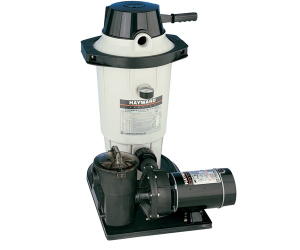 Hayward EC40 Perflex w/ 1HP Powerflo Pump
Perflex Extended-Cycle D.E. filters clean pools fast, removing particles as small as two microns the first time through. Its patented Flex-Tube™ design gives longer cycles between cleaning because the same D.E. filter powder is used over and over. Plus, Perflex cleans without backwashing, saving hundreds of gallons of treated pool water. An exceptional value as a replacement filter or for new pool installations. For sparkling, clean pools, step up to Perflex.
Captures all dirt, removing microscopic dust and pollen as small as one micron.
Traps algae.
Efficient one-pass cleaning power.
No Backwashing , "bumping" activates Flex Tubes repositioning dirt and D.E. within the filter.
With a design flow rate of 40 gallons per minute, this filter will handle any above ground pool.
System comes complete with filter, 1 HP Power-Flo LX pump, filter base, union connection, (2)1.5″x6′ length of hose, hose adapters, hose clamps, and backwash valve.
The Power-Flo LX is a high performance pump series designed for the rigors of above-ground and on-ground type swimming pools. Combining durable, corrosion-proof construction with advanced features and options, Power-Flo LX sets the standards for value and performance. -Durable corrosion-proof housing for all weather performance and quiet operation. -100% drip proof, heat resistant double-sized seal for long motor life. -high performance impeller -drain plug for easy maintenance of pump -clear cover lets you see when basket needs cleaning