All Products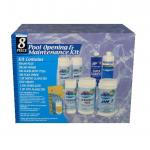 Complete 8-piece pool start-up and maintenance kit.  Save over 25% by buying this kit instead of purchasing these items individually.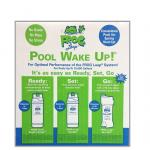 When opening your pool, Pool Wake Up! provides complete care in a single box. With the hands free dispensing only FROG provides, you gain the convenience that your water is prepared for the coming season.
The kit includes three products, all designed to function within the FROG LEAP Infuzer as easily as Ready, Set, Go. You ready the pool with Depth Charge that dispenses in 1 hour and is then removed and the pac recycled. Then you set the initial chlorine level with Reveille that again dispenses in one hour. Lastly your pool is ready to go after All-Out 90 Day Algae Preventative that dispenses in 90 minutes.
Treats Pools Up To 15,000 Gallons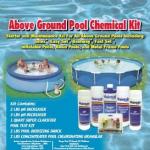 Complete chemical kit for smaller above ground pool. Ideal for Intex and Bestway pools.
Includes:
2 Lbs PH Increaser
3 Lbs PH Decreaser
1 Qt Super Clarifier
Pool Test Kit
2 Lbs Pool Oxidizing Shock
2 Lbs Concentrated Pool Chlorinating Granules