All Products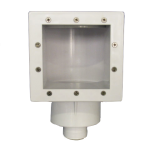 Includes all stainless steel hardware, vacuum adapter, complete return fitting with eyeball,  gasket sets (2), 2 hose adapters 1-1/4 to 1-1/2, skimmer basket, skimmer door (weir), top cover, teflon tape.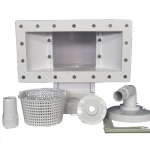 Includes the following:
Skimmer Housing, Wide Mouth Extension, Wide Mouth Front Plate, Locking Top, Cover, Flap door (Weir), Basket, Vac Adapter Plate and Elbow, Return Fitting including "Eyeball" and gaskets, Hose adapters 1-1/4″ and 1-1/2″, Gasket Set (2 Pcs.), Teflon Tape.